When it comes time to choosing the right furniture for your outdoor area, you will want to see the best available options the market has to offer. Out Back Casual Living is a great place to find a complete selection. We carry the latest outdoor furniture designs in a wide variety of well-known brands.
There is a growing demand for affordable, stylish, and high-quality outdoor furniture sets. At Out Back we understand your outdoor spaces will be popular areas for relaxing comfortably or entertaining guests. Whether you need to decorate your porch, patio, deck or even your balcony; you'll want durable materials that can stand the test of weather and time.
If you are not sure where to start when it comes to buying outdoor furniture, a good place to begin looking for inspiration is your own home. Think about your favorite furniture pieces and use those to help inspire your decision. Doing this will make it easier for you to seamlessly blend the indoor areas with the outdoors space. To create a good flow between your interior and exterior, try adhering to the same color palette.
One of our favorite brands is Homecrest Outdoor Living. Homecrest outdoor patio furniture products are proudly manufactured in the United States. Homecrest is well known in the market for providing superior comfort and exceptional quality patio furniture. This brand offers a complete selection of customizable seating options, fire pit products, and outdoor accessories.
The Homecrest customizable outdoor sitting collection includes: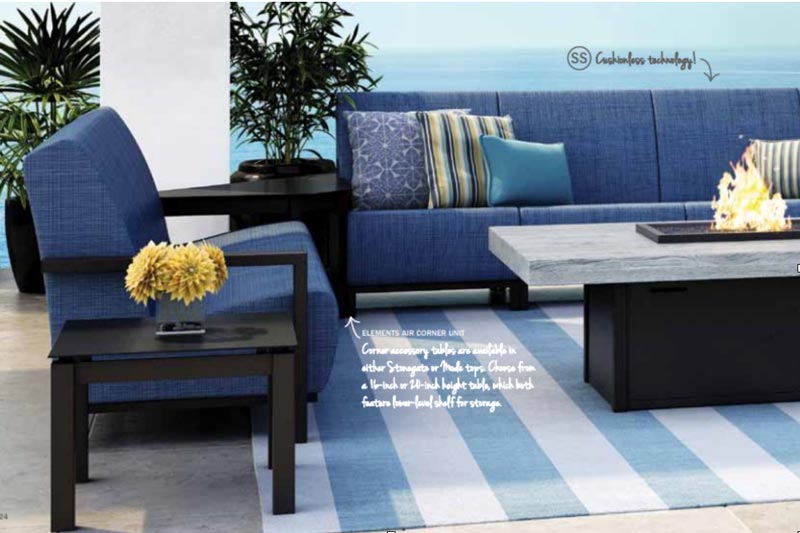 Air Outdoor Furniture: Their revolutionary air seating collection is based on a "empty box design". This allows the fabric to run through the air pockets and dry in just minutes.
These chairs provide the same appearance and comfort as padded or cushion chairs and need very low maintenance.
---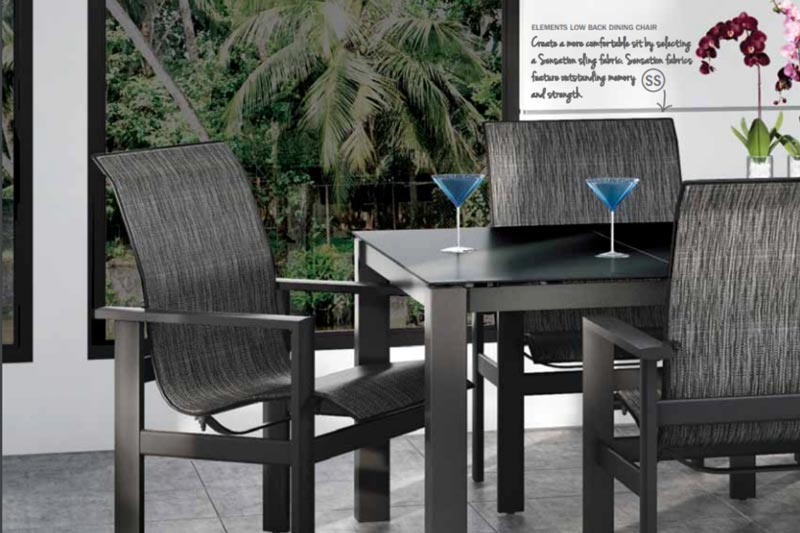 Sling Outdoor Furniture: Homecrest offers double layer sling chairs. These chairs are static-load tested to guarantee the best durability and seam strength. These chairs have become a consumer favorite because of their longevity and comfort.
---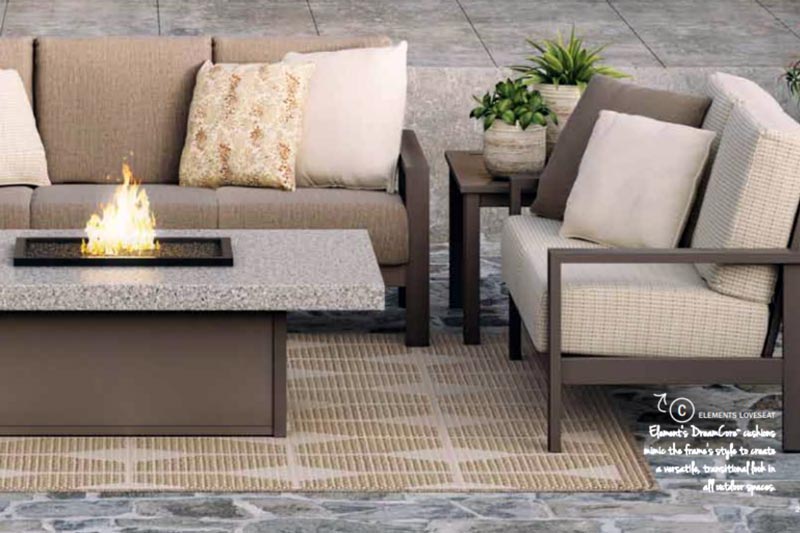 Cushion Seating: If you are looking for beautiful and extremely comfortable outdoors furniture, Homecrest offers beautiful options for cushion furniture.
They feature Dreamcore™ cushions, made of high resilient foam, for long-lasting support and resilience. They also offer the Ultracore™ Cushions made of solid foam to provide clean and crisp edges.
In addition, you can choose Homecrest Luxe Outdoor cushions. These are made with foam that's wrapped in moisture resistant ticking to prevent dampness from penetrating. All their cushions are ideal for outdoor spaces, where they will be exposed to heat and moisture.
---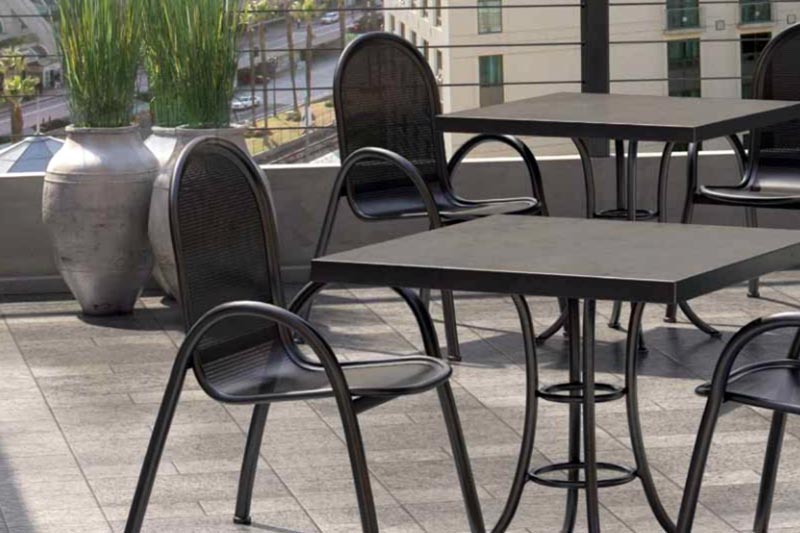 Metal outdoor furniture: These metal chairs are specially designed to withstand the elements.
They are low maintenance and can be specified with weather resistant mesh or removable cushions. These tend to be the preferred options for the commercial and hospitality world.
---
Homecrest Outdoor Living is also experienced in manufacturing high-end outdoor dining and center tables. Just like they do with their seating, they offer a wide variety of customizable options.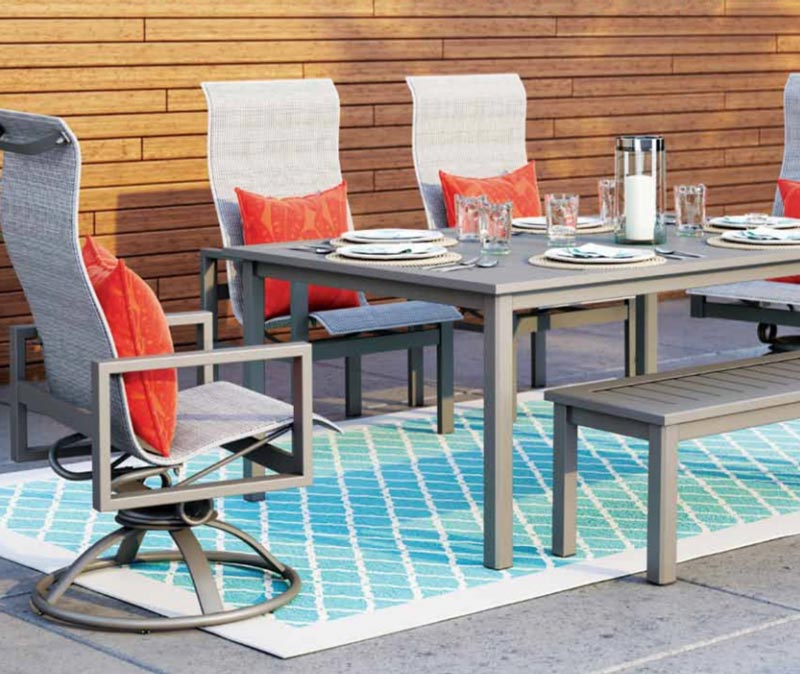 First you pick the collection that appeals to you the most, then you can select the table height. After this, you can choose the table top, base colors, and shapes.
Homecrest uses materials including resins, glass, wood or aluminum. They specialize in designing structurally solid pieces that can be used year-round.
Homecrest also offers a wide variety of outdoor accessories and fire pit options to help you complete your outside design project.
Whether you are looking for a traditional, transitional or contemporary style, their innovative designs provide some of the best outdoors furniture options.
---
For the finest selection of outdoor furniture in Grand Rapids, MI, check out our patio furniture portfolio at Out Back Casual Living & Fence.
If you're searching for the latest designs in patio furniture and accessories to outfit your backyard, deck, pool area or patio, be sure your visit is to Out Back Casual Living & Fence. We are proud to carry great brands like Homecrest Outdoor Living. When it's time for you to choose the stylish outdoor furniture Out Back Casual Living and Fence wants to make sure you get exactly what you are looking for.
Check out the 2018 Contract and Residential furniture collection catalog. Call us to speak to one of our specialists or come visit our showroom and let our consultants help you find the perfect solution for your outdoor area. To find out more about their products check out our Patio Furniture gallery.